2 things you might not know about call centers in Vietnam
This short article presents an overview about call center industry situation and its growth potential in Vietnam. With simplified, concise but useful information!
Situation of call centers in Vietnam
Vietnamese law does not have a concept of "call center services" nor a specific foreign ownership restriction applied to call center services. However, Vietnam is considered an attractive location for call center offshoring, thanks to its recent growth in Business Process Outsourcing. Since 2010, Vietnam has been listed in Gartner report in the top tier of emerging markets, alongside China and India. Hence, though the number of Vietnamese call centers is not huge, there are big corporates which work specifically in this field. They have years of experience, understand local market very well, and have an effective system to operate call centers effectively.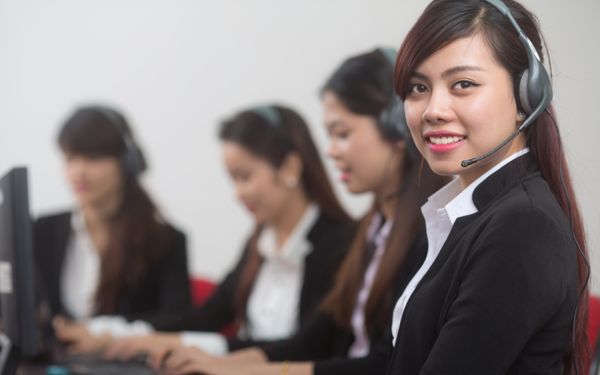 Competitive advantages of call centers in Vietnam
Vietnam has all the hallmarks of becoming a potential and major call center outsourcing hub, thanks to its low labor costs, growing language skills, diverse IT talent pool, and political stability.
In detail, labor cost in Vietnam is lower than that of India or China or South East Asian neighbors, and lower attrition rate is a significant advantage compared to India.
See more at: Analysis of English Proficiency vs Wage Expectations in main offshoring locations
Plus, Information Technology and BPO industry are encouraged by Vietnamese Government through foreign investment and tax incentives for. With dramatic drop in political risk and strongc GDP output, BPO sector in Vietnam is expected to develop significantly from the current rate of 20% to 35% annually.
Also, Vietnam ranks 6th in the 2017 Global Services Location Index (GSLI) according to A.T. Kearney. With a large population and strong capacity in technology-savvy workers, call center industry in Vietnam is expected to continue growing quickly in the next decade.
Additionally, communication level of Vietnamese employees has been improved recently. With experiences, diplomatic manner, hard-working attitude, and proficient English skills; Vietnamese agents can convey effective communication with customers on behalf of clients.
See details in: Major characteristics of Vietnamese that benefit your offshore business
While other giants in Business Processing Outsourcing such as India and the Philippines are famous for their skilled talents with multilingual capabilities, Vietnam competitive edges lie in affordable labor productivity, favorable environment, lower rental payments and building costs.
Would you like to get more information about call centers in Vietnam to decide whether to outsource service to this country or not?
Feel free to connect with Bellsystem24-HoaSao - the leading contact center and customer service outsourcing provider with more than 13 years of extensive experience.
Connect with us for free support and advice !
Call: +84 19001739
Use the form: Here!